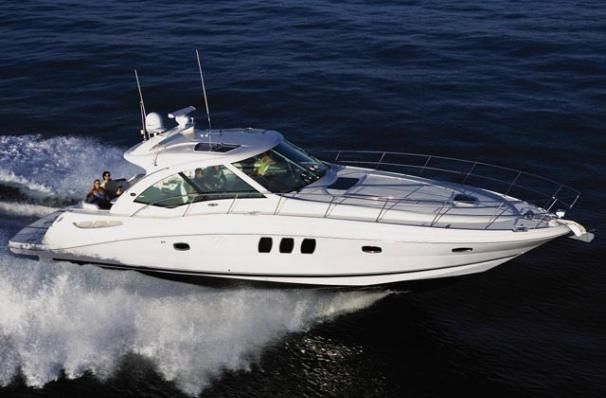 Sea Ray 48 – Yacht Charter In The Bahamas

Sea Ray 48 – Yacht Charter In The Bahamas
Yacht Details
The gorgeous curves and aerodynamic profile of the Sea Ray 48 Sundancer are sure to attract attention. Outfitted with a unique, electric windshield vent system that allows for an unbroken line from deck to roof plus a sleek hardtop with two extra-large sunroof hatches, this ingeniously designed beauty is nothing short of inspired.
We offer the details of this vessel in good faith and guarantee the great condition of the vessel. View our used Sea Ray 48 Sundancer boats for rent in Nassau. We're offering the best selection of Sea Ray 48!
Yacht Specs
| | | | |
| --- | --- | --- | --- |
| Guests: 15 | Cabins: 1 | Speed: 30 Knots | Length: 48ft |
| Crew: 2 | Year: 2017 | Flag: Bahamas | Range: 500 km |
| Catering: No | Wi-Fi: No | Port: Nassau | Jacuzzi: No |
| Gym: No | Jet Ski: No | Decks: 1 | Satellite TV: No |
Pricing Options
Rates
$4632.00 Tax included. Nassau/Rose Island. Rose Island/Green Cay swimming with Turtles.
$7868.00 Tax included. Spanish Wells (Pigs).
$7420.00 Tax included. North Exuma. 1.5 hours each way. Iguanas, Sharks, Sunken Plane area.
$8988.00 Tax included. Central Exumas (Pig Beach) (3.5-hour long ride each way)
Price is for 10 Guests, Extra Charge of $224.00 additional over the initial 10 people max
15 guests.
We include water, soft drinks, ice, beers wet bar with vodka, rum, wine mixers, fruits platter, sandwich platter and
chips and dips.
Additional Information
What's included in the base price? We include captain, boat, fuel costs, water sports toys (if specifically interested in one activity please let us know) and docking fees. To upgrade to include transport to/from the marina, open bar, meals, or any extras please ask our representative about the additional costs associated here since they will vary depending on the size of your group.